MISSION STATEMENT

For over 30 years, Stan McNabb has offered his customers dependable vehicles, affordable parts, and quality service while at the same time providing a safe and friendly working environment. It's not unusual to meet employees who have been with the company all 30 years, just as it's not unusual to find customers who have been with us just as long. Our goal is to make your buying experience as pressure-free and hassle-free as possible. Many of our employees are Factory-Certified to better help answer all of your questions regarding all the products that we offer to aid in helping you make an informed decision. It is our sincere hope that you'll be our customer not just today, but for years to come.
We say it and it's true: Exceeding expectations, one customer at a time. This is our goal. This is our promise.
At Stan McNabb, we do it every day.
---
STAN MCNABB'S HISTORY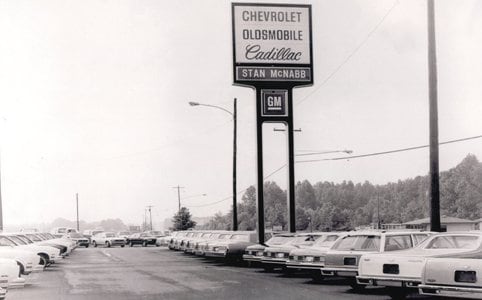 Celebrating Our 32nd Year, the Tradition Continues!
Born and reared on
a farm in 
Murfreesboro, St
an McNabb graduated from Middle
Tennes
s
ee State University. His first aspira
tions were to be a veterinarian. He later decided this was not th
e course he wanted for his life and changed his major to business management.
His love of automobiles led him to take a job selling for Joe V. Clayton, a Chevrolet dealer in Arab, Alabama. It was there that he met Jamie Stisher, who became his wife in 1977.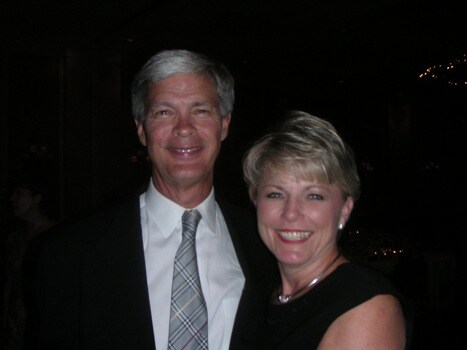 Stan and Jamie have three children. Their daughter, Ashleigh, graduated from the University of Tennessee in 2003 with a degree in
Marketing and recently married Dan Jessup, whose family owns the Jessup Auto Plaza in Palm Springs, California.
Their second child, Trey, is a graduate of the University of Alabama with a degree in Business Management. Trey is currently following in his father's footsteps as the General Manager of the Chrysler Dodge Jeep store in Tullahoma, TN and the Ford store in Lewisburg, TN.
Their third child,Trent, is a graduate of Vanderbilt University with a degree in Economics. After his graduation, he interned at Jessup Auto Plaza in Palm Springs, California and Don Moore Automotive in Owensboro, Kentucky. He has since returned to the family business and is currrently the General Manager at Stan McNabb Chevrolet Buick GMC Cadillac in Tullahoma, Tennessee.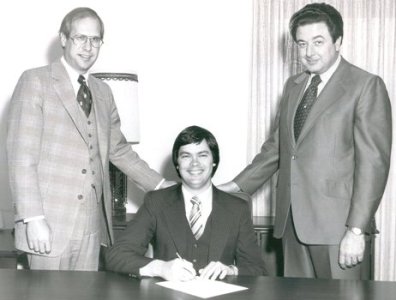 Because of his love of automobile sales, Stan and a friend, Gary Kilpatrick, went into business
together in 1980, purchasing a thriving dealership owned by Joe Shapard in Tullahoma since 1945
.
When Gary Kilpatrick decided to sell his interest in 1985, Stan purchased Gary's interest become the store's sole owner.
Stan McNabb's philosophy of business ethics has gained him the excellent reputation that has made his business such a great success.
Constantly adding new car lines, he now has dealerships in several locations: Chevrolet, Buick, GMC, and Cadillac in Tullahoma; another store in Tullahoma consisting of Chrysler, Dodge, Jeep, and Ram; and a third location in Columbia.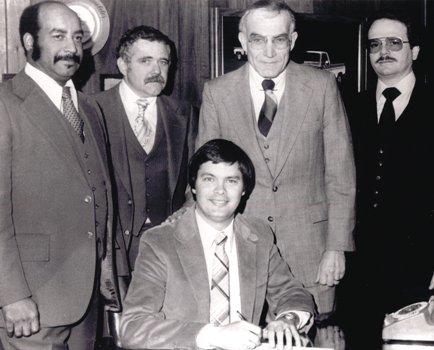 Plans for the future include a new, enlarged facility at Tullahoma, which began construction in December 2011. The newly remodeled Stan McNabb Chevrolet Buick GMC Cadillac is scheduled to be completed in May 2012.

Because of the quality and strength of their client base, Stan McNabb has the power to finance just about anyone. This service has special appeal to college students, who must consider a pre-owned automobile as their first vehicle purchase. It's Stan's aim to assist everyone in securing reliable transportation at a price they can afford.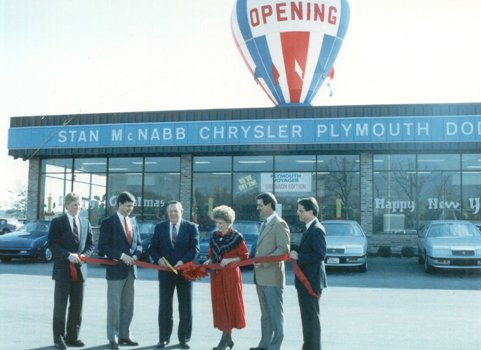 In addition to being recognized as one of the only full-service dealerships in the area, Stan was also honored as the Time Dealer of the Year for the state of Tennessee and recognized nationally at the National Automotive Dealers Association convention.
Stan attributes his success not only to his employees, but also to the customers who return time and time again to do business with hi
s company. Stan and Jamie invite their customers to take advantage of the many specials that will be found on the new Stan McNabb website as they celebrate their 30th year in business.
---
About Stan McNabb Automotive - Your Tullahoma, Columbia Chevrolet, Dodge, Jeep, RAM, Buick, GMC, FIAT and Cadillac Dealer for New and Used Cars
At Stan McNabb Automotive, we believe you should be as hassle free during the car shopping process as possible. Because we take pride in serving our Murfreesboro, Columbia, Franklin, McMinnville and Shelbyville, TN area customers to the fullest, we have established a web site that will not only help you find the right new Chevrolet, GMC, Buick, Cadillac, Dodge, Chrysler, Jeep or used cars in Tennessee that you are looking for, but also help you with auto financing, car repair and service and locating the correct car parts in Columbia & Tullahoma. If you can't find what you are looking for, be sure to use our CarFinder for assistance locating the perfect Chevrolet, Dodge, Jeep, or Cadillac vehicle for you. With the CarFinder, we will let you know when the vehicle arrives that matches your search.
At Stan McNabb Automotive, we are willing to answer every and all questions you might have during the car finding process. We are conveniently located near Murfreesboro, McMinnville and Shelbyville TN at any of Tullahoma or Columbia, Tennessee locations. You can also reach us anytime by filling out our contact form or calling us at the number above. Thank you for visiting and remember, the entire staff at Stan McNabb Automotive looks forward to serving you!